What type of music do brass bands play?
Our band plays all kinds of music! Arrangements of pop songs or classical pieces, big band music, hymns, marches,... Any piece you can think of, there's usually an arrangement for brass band. And, of course, at Christmas time, we play carols.
In thisvideoMnozil Brass do some totally bonkers stuff!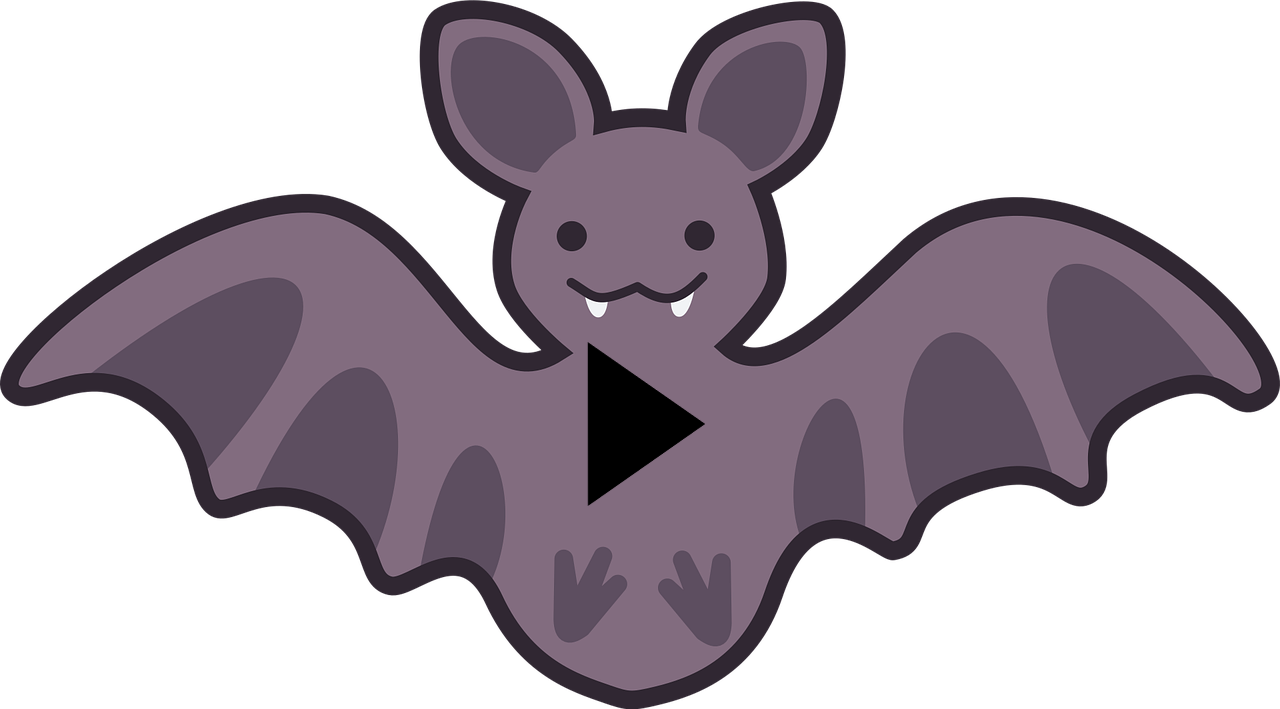 And what do you think of the Cory Band's lockdown rendition of Vivalid'sThe Four Seasons?

Here's how to make an entire Russian factory smile: Gonna Fly Nowfrom the film Rocky with Olympic Brass.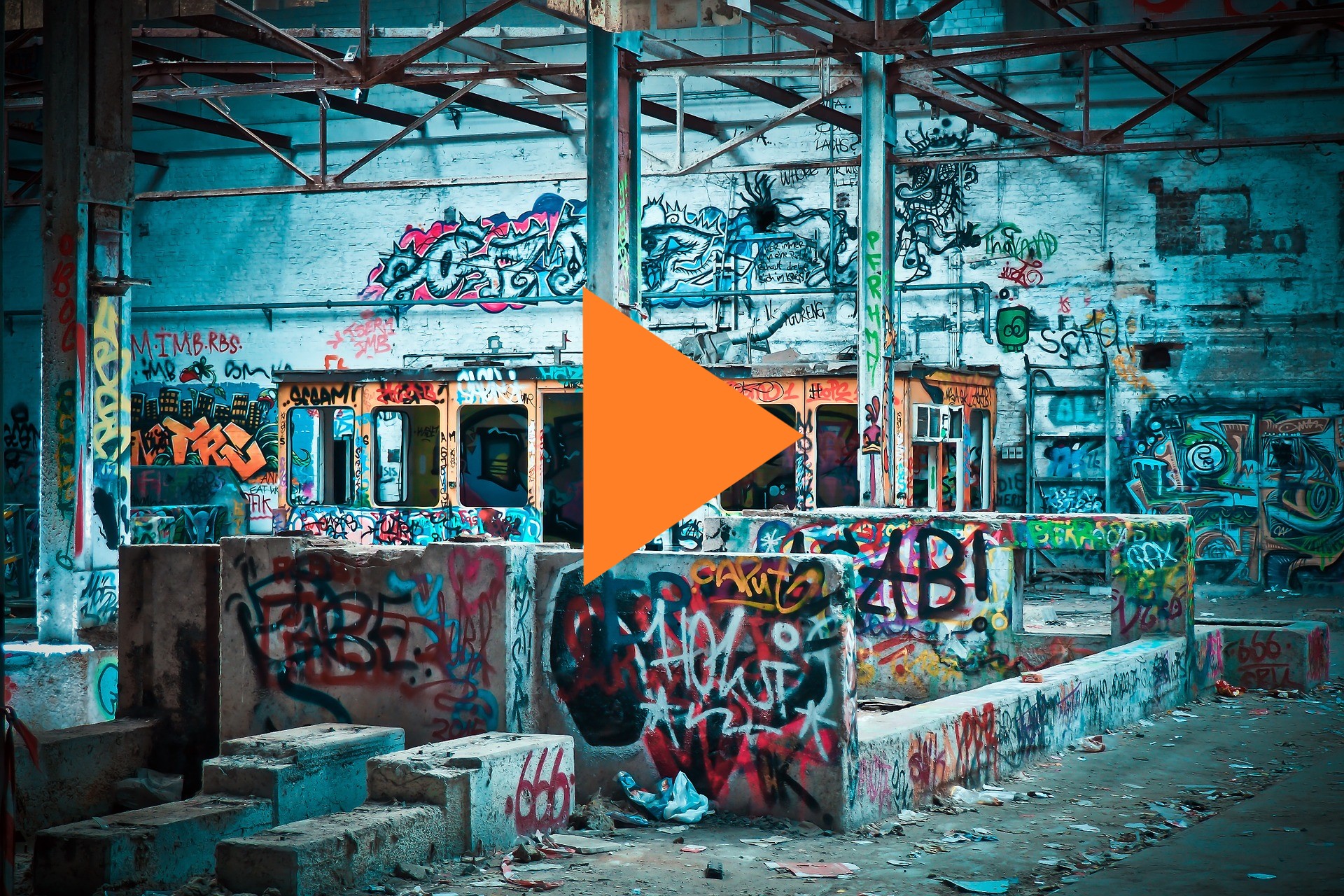 Now for something a bit more conventional: The William Tell Overture Finaleplayed exquisitely by the Cory Band.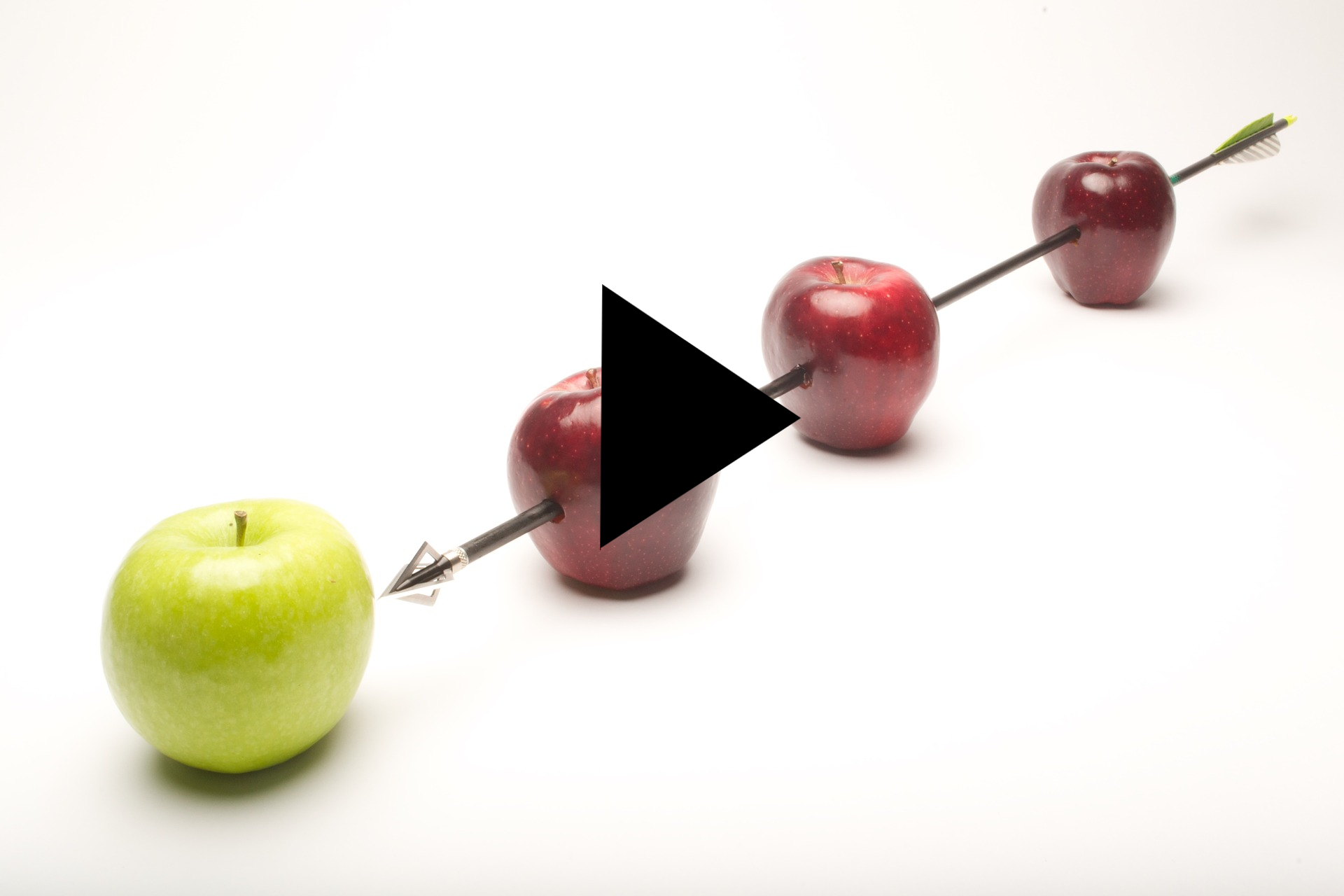 What instruments do you find in a brass band?
Instruments in a brass band fall into two very different groups: brass instruments (obviously!) and percussion. The percussion section may consist of just a drum kit, but there can be three or four percussionists playing a very wide range of percussion instruments.
What do they look like?
In this video, Paul McLaughlin explains what a brass instrument looks like.
Paul McLaughlin, Brass Bands England
All shapes and sizes!
Cornets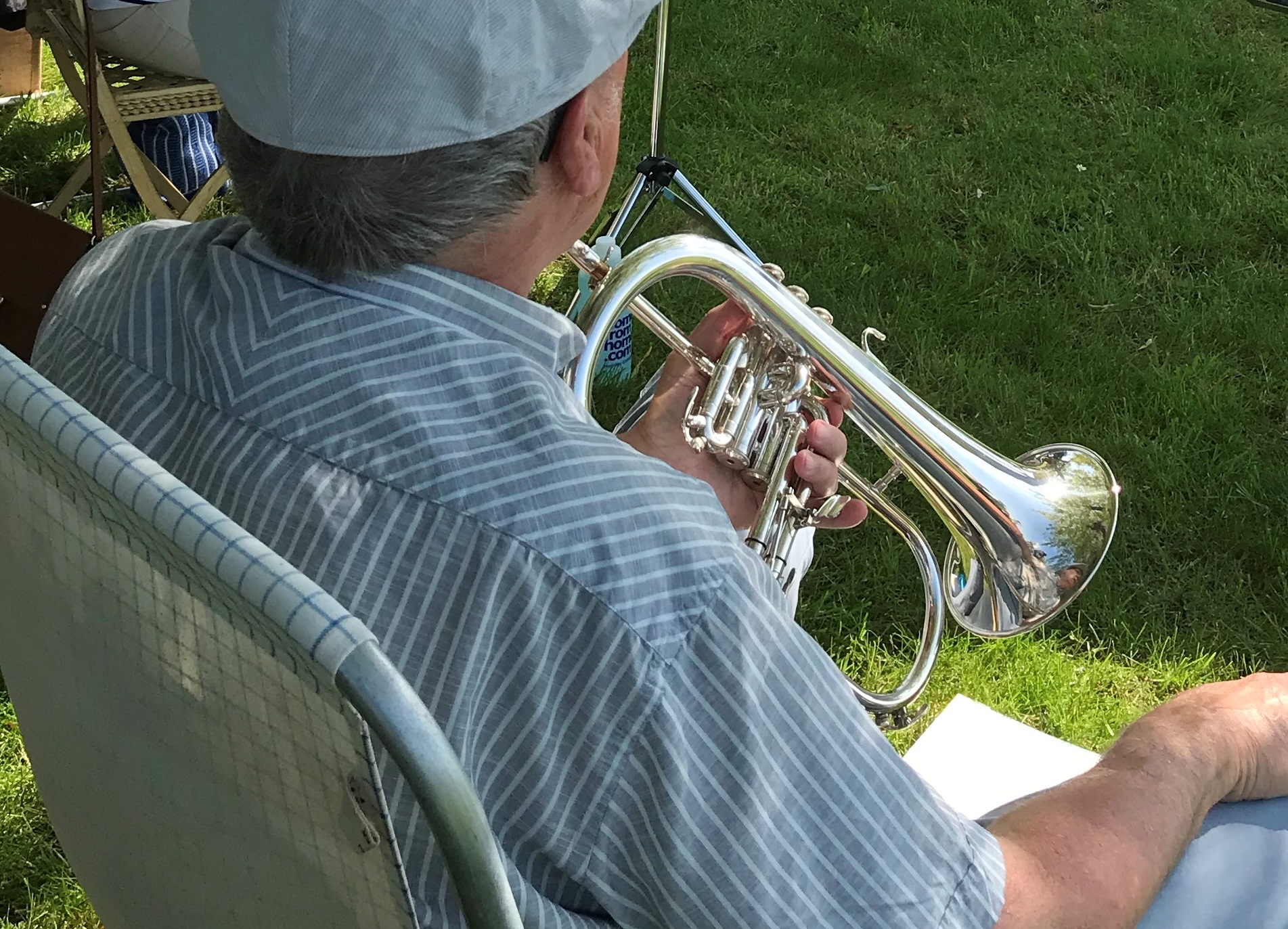 Cornets are the smallest brass instruments in the band, and there are lots of them! They usually play the melody. Cornets look similar to trumpets. Trumpets also play in orchestras and other types of band.
Tenor horn
The tenor horn is the smallest of the instruments played with the bell facing upwards. Its pitch is lower than the cornet, but higher than the baritone horn.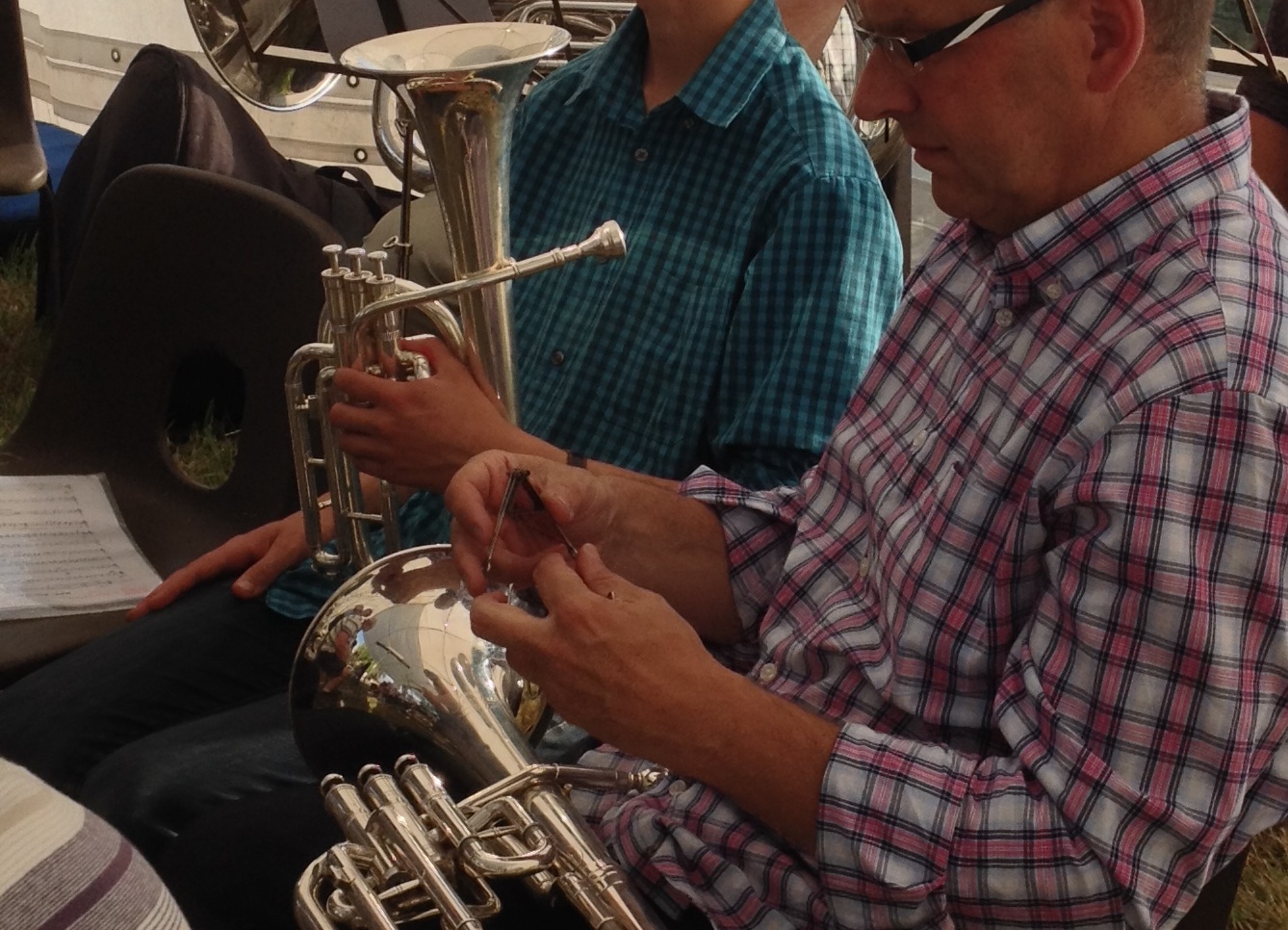 Trombone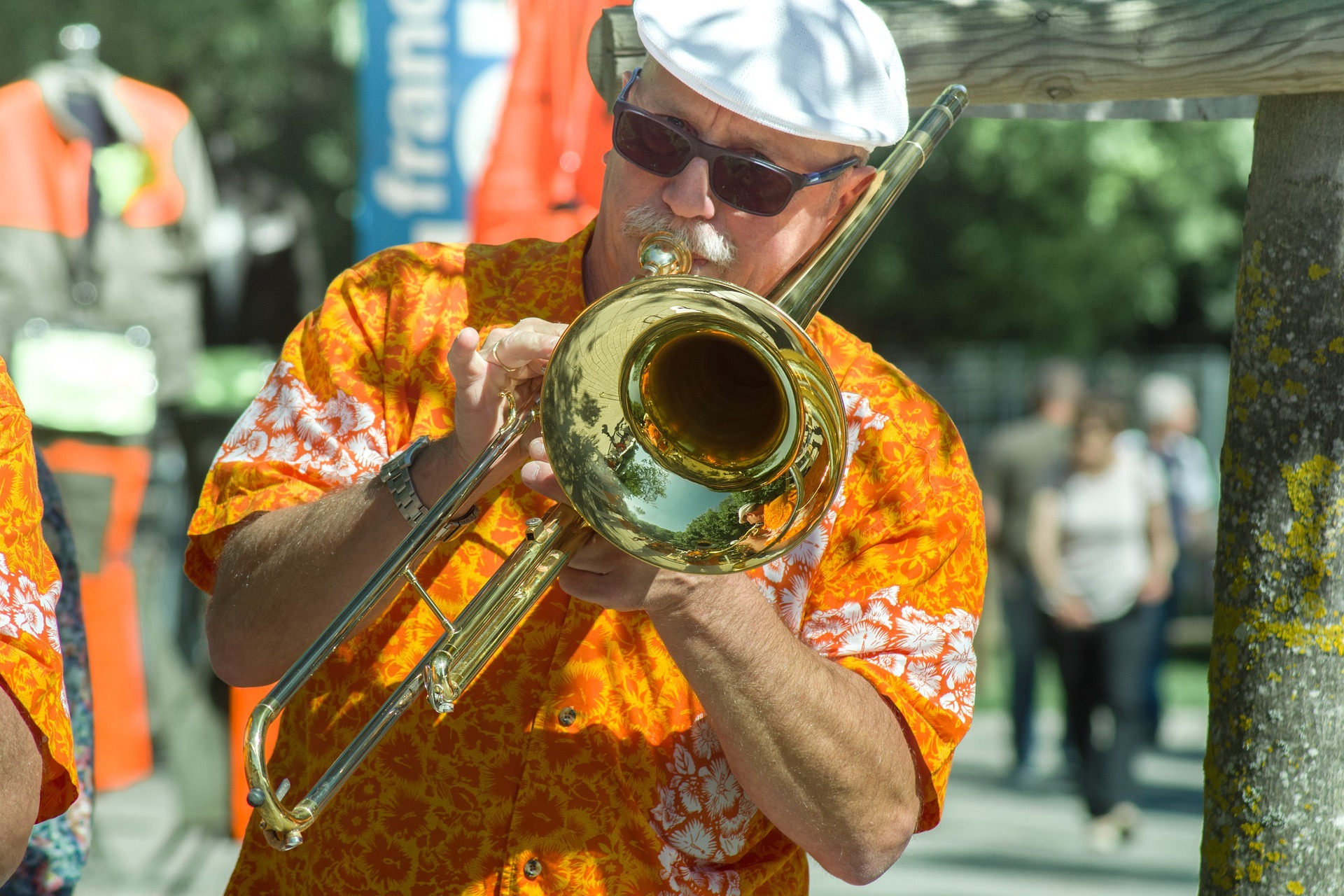 Trombones use a slide to change pitch. This allows them to slide up and down between notes, which can be fun. There are usually three trombones in a brass band. You also find them in orchestras and other types of bands.
Baritone
The baritone horn plays an octave lower than the cornet. It has a rich, deep sound. It sometimes plays solo parts, but usually keeps more in the background. Its role is similar to that of a cello in an orchestra.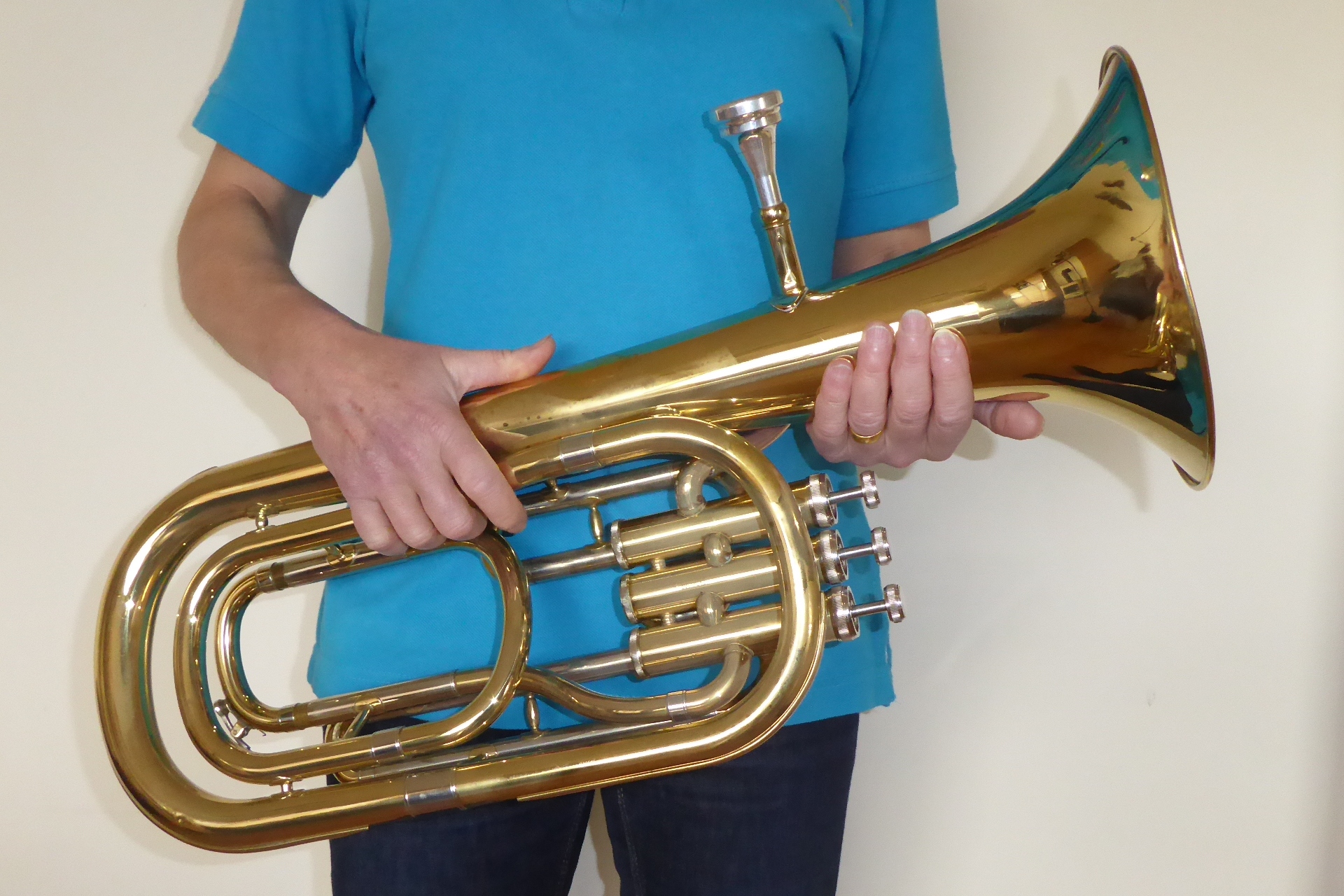 Euphonium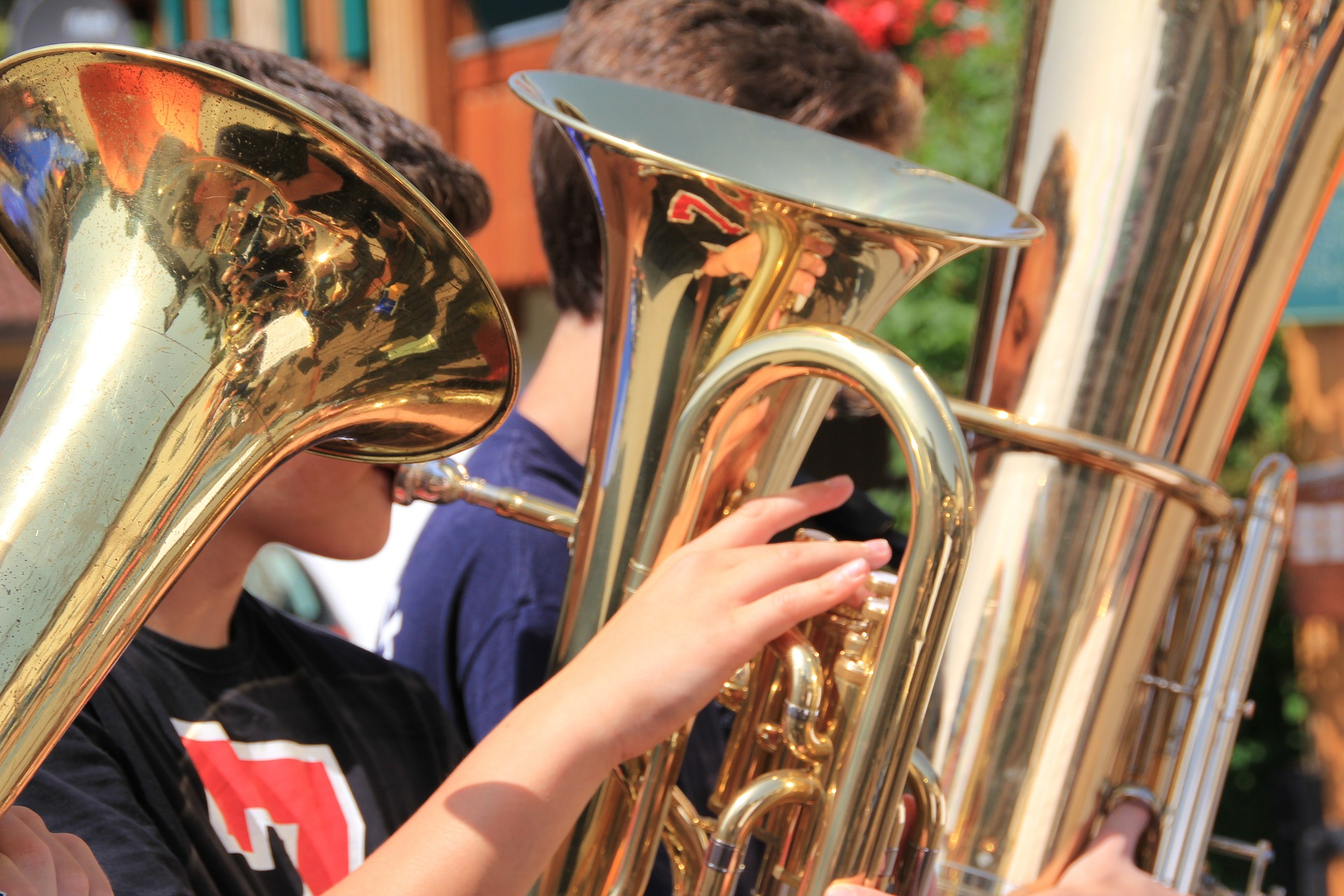 The euphonium is slightly larger than the baritone horn. Surprisingly, it has the same pitch, but it sounds more muted.
Tuba
The tuba is the largest instrument in the brass band. It plays the bass line, low and (usually) slow. Tubas also play in orchestras.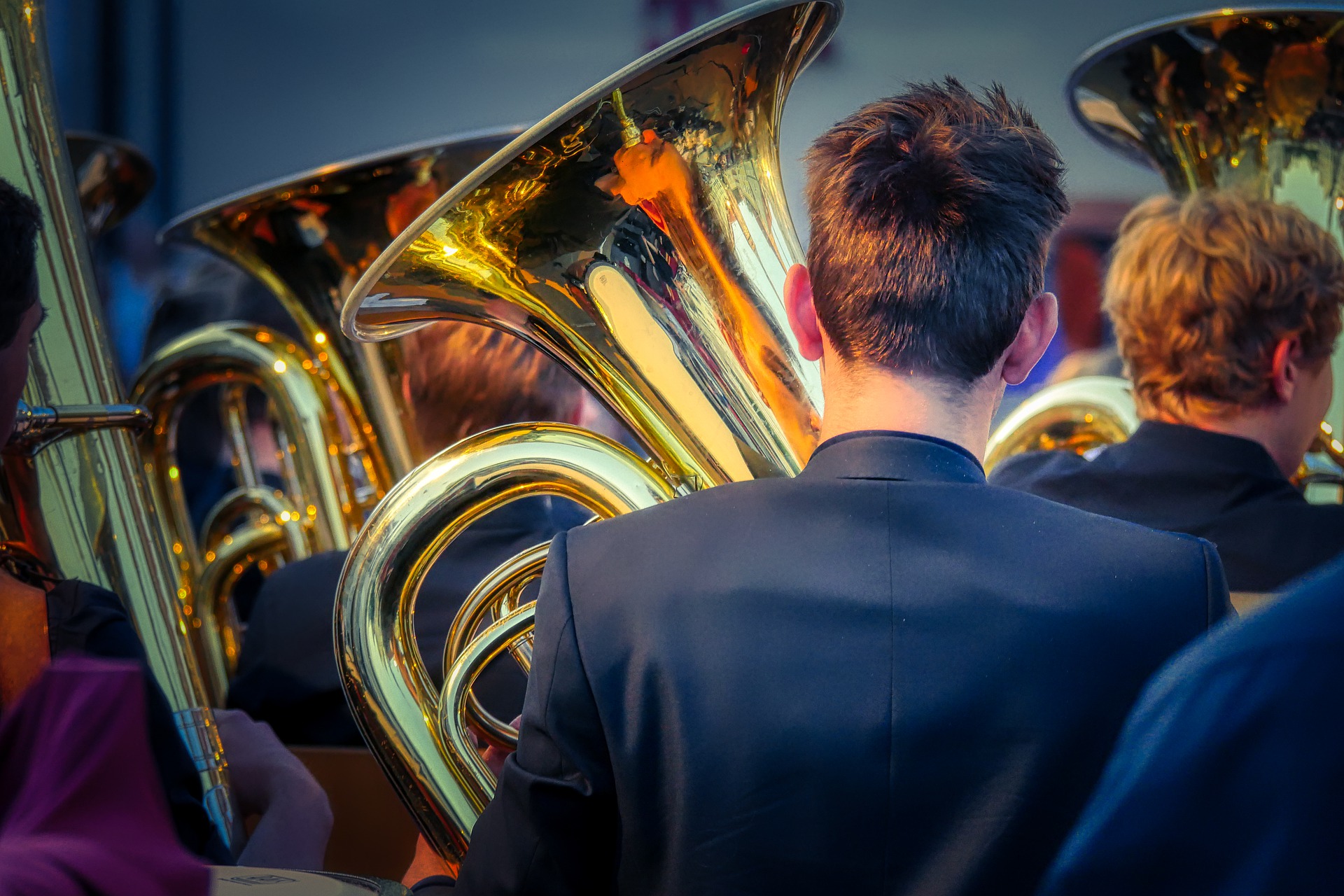 Drums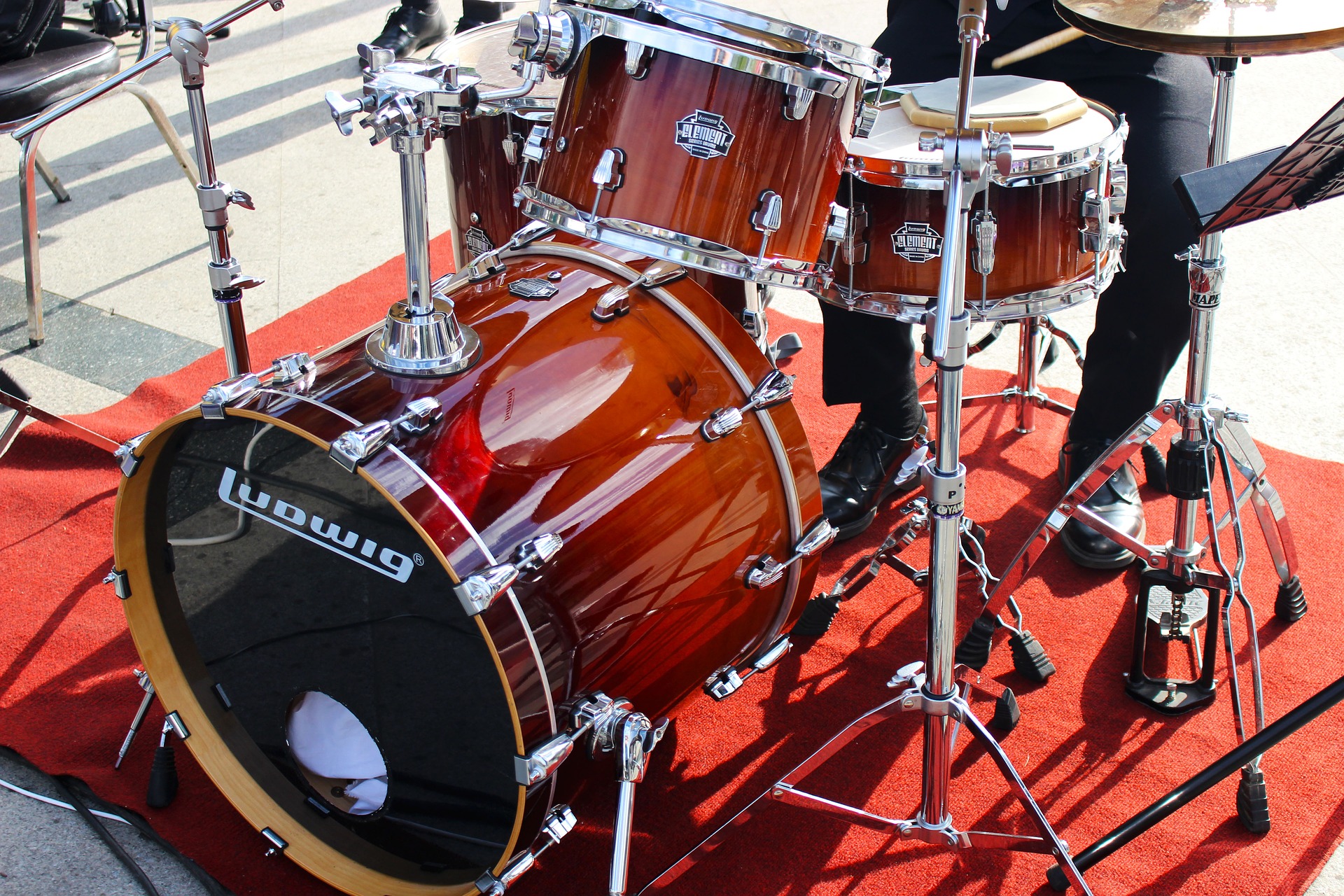 Each brass band has at least a drummer. Many bands have several percussionists.
Where else do you find brass players?
Playing music in a brass band is a fantastic experience. Very many great orchestral and solo performers started their musical careers in brass bands and many periodically return to their original bands just for the fun of it. (We see several of our own previous members return when they are visiting Malvern and, like returning family members, they are always welcome to join in). Of course, brass players do not only play in brass bands. They can go on to do very different things.
"Playing in a brass band prepares you for every eventuality"
(Paul Fisher, professional trombonist https://www.paulfishermusic.info/ )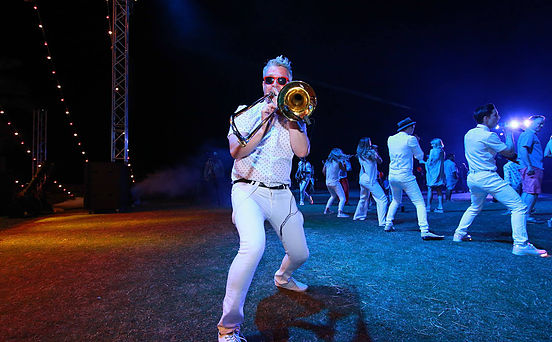 Paul Fisher picked up the trombone aged 8. He has worked with many great orchestras, in theatres, jazz orchestras, blues bands, and in the world of pop. He has performed, toured, and recorded with many fantastic musicians, such as Madness, Jools Holland, Charlotte Church, Il Divo, and Alfie Boe. He somehow still finds time to lead a brass band as Musical Director and to be lead teacher in brass for Hertfordshire Music Service.
Paul says that playing in a brass band "prepares you for every eventuality", from orchestra to recording studio. Brass band players are almost constantly playing in rehearsals and concerts, unlike orchestral players who sit and wait their turn a lot of the time. The broad range of musical styles played by brass bands and the variety of pieces gives brass band players the ability to sight-read and quickly switch between different musical styles.
"Stop fighting your instrument!"
(Greg Spence, Australian trumpeter and educator https://mysterytomastery.com/ )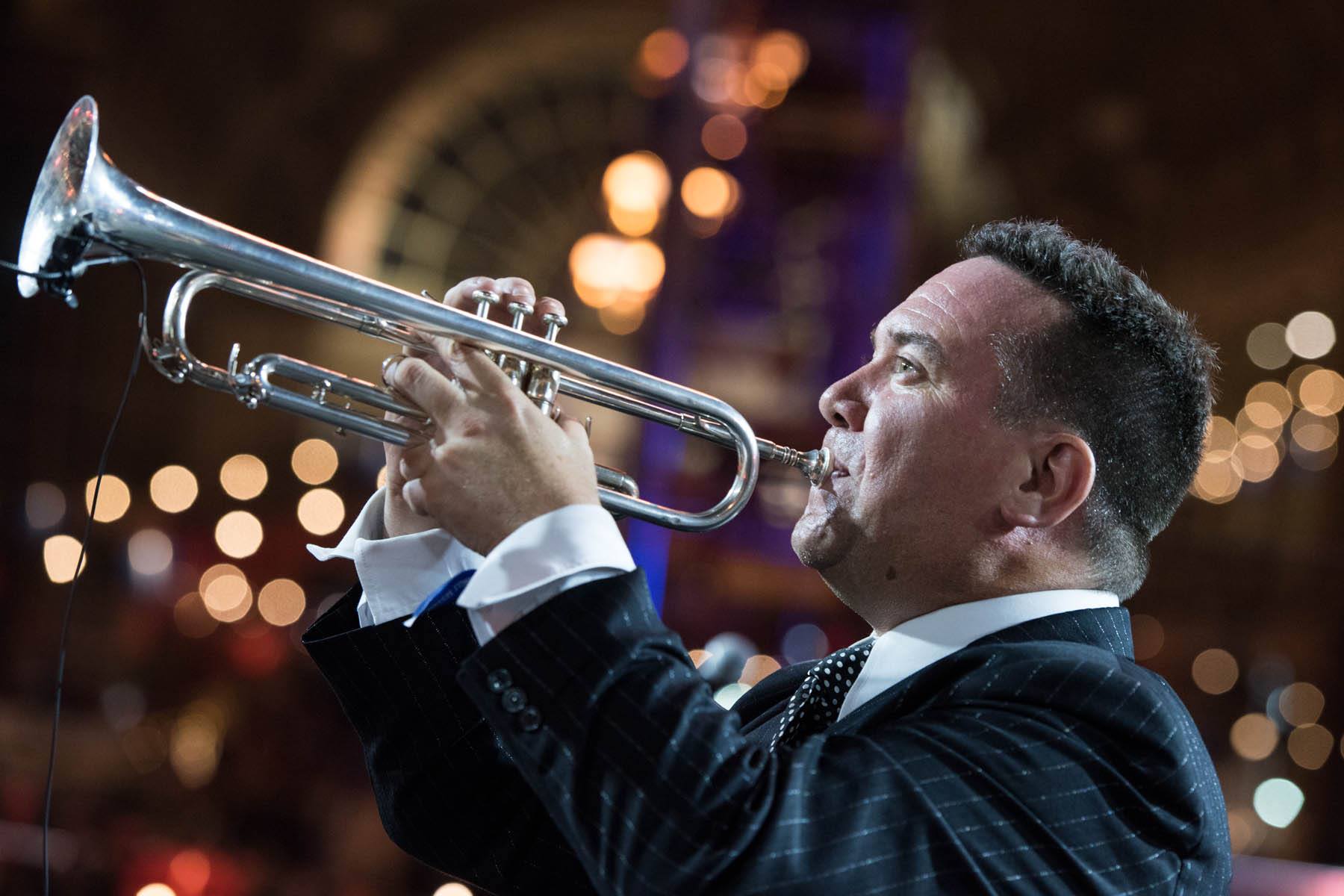 Greg is known for his versatility as an in-demand lead trumpet. He has played alongside trumpet royalty such as Wayne Bergeron, Bobby Shew, Clay Jenkins, Ingrid Jensen, and James Morrison. He has backed many artists and recorded on over 100 albums, performed with Australia's top performers and played over 30 professional musical theatre shows.
Greg has always been passionate about teaching. He has published two books presenting revolutionary new ideas about brass playing. In 2018, he launched a comprehensive online brass learning course called "WindWorks". Greg's two books and his WindWorks course have reached more than 20,000 brass players worldwide and his youtube channel has had over 1,000,000 views.
"It makes my pulse race, my heart melt, and the hairs on the back of my neck stand up"
(Philip Harper, conductor, composer and arranger of brass music http://www.philipharper.co.uk/ )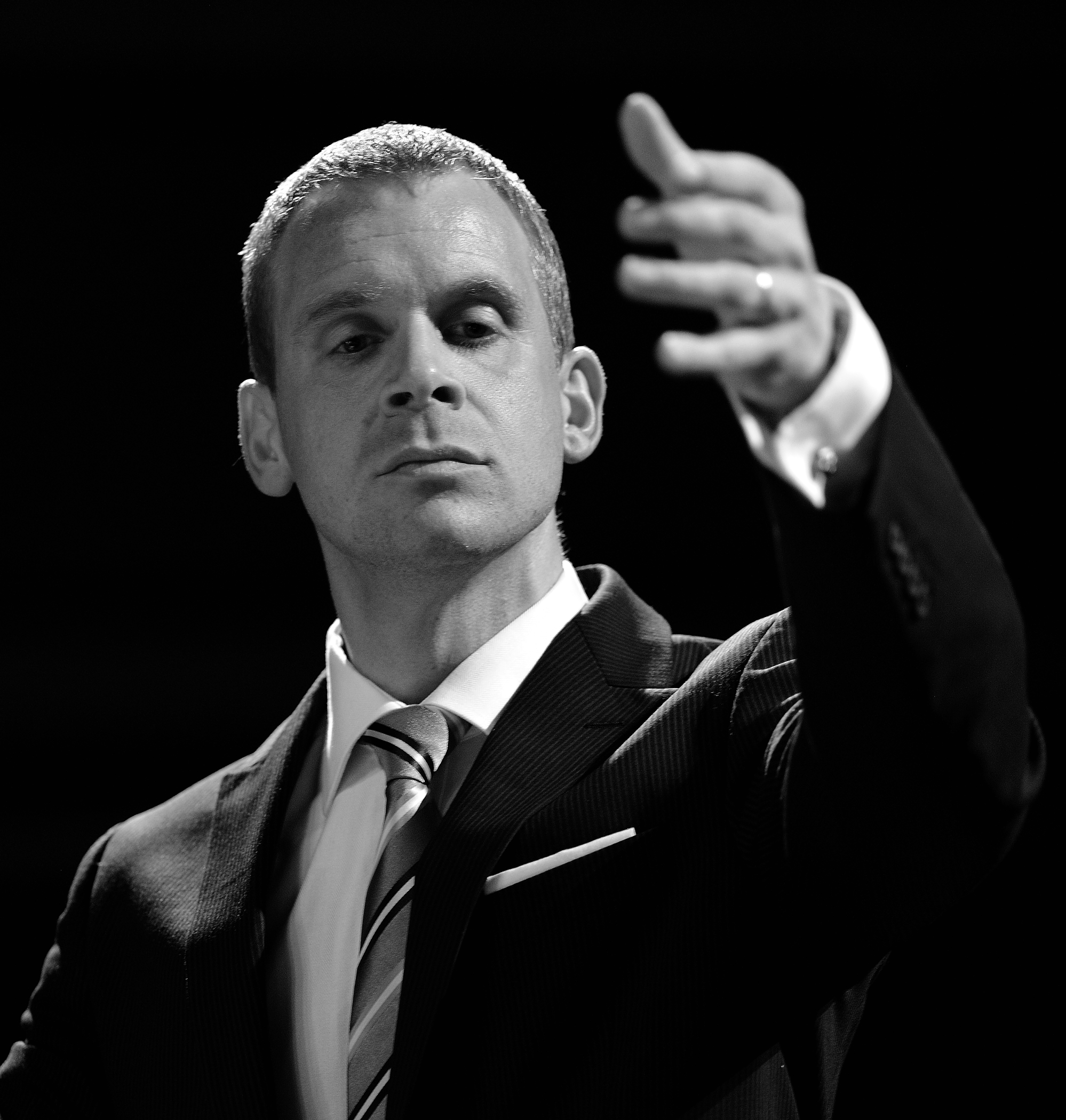 Philip Harper has seen all sides of the banding world. He had a successful performing career and was the principal tenor horn of the National Youth Brass Band of Great Britain, as well as winning through to the Brass Final of the BBC Young Musician of the Year in 1991. Between 1996 and 1998 he lived in Japan and was a guest soloist with most of the 'British-style' brass bands.
In 2012, he became Musical Director of the Cory Band. Since then he has won all the major trophies many times, including unprecedented Grand Slams of major titles in 2016 and 2019: the European, the British Open, the Nationals and Brass in Concert, all won in a single calendar year.
Philip is a prolific composer whose original works and arrangements are played all over the world.
He says "As Musical Director of the Cory Band I am, every day of my life, living the brass band dream! It's a cliche of course, but whether or not I was MD of Cory, I would be deeply immersed in the world of banding, as it is the thing that makes my pulse race, my heart melt, and the hairs on the back of my neck stand up - in other words, it's my passion. Being in banding has enabled me to become a professional musician and I have travelled the world and met some incredible people as a result - definitely living the dream!"